(for reference materials and instructions, click on the Zoom category link to the right)
Think of webinars like a virtual lecture hall or auditorium. Webinars are ideal for large audiences or events that are open to the public. Typically, webinar attendees do not interact with one another.
All participants can mute/unmute their own audio
Host can mute/request to unmute participants
The Host can set all participants to mute upon entry
Zoom meetings are ideal for hosting more interactive sessions where you'll want to have lots of audience participation or break your session into smaller groups.


Only the Host and panelists can mute/unmute their own audio
Attendees join in listen-only mode*
The Host can unmute one or more attendees
Zoom Collaborative Learning Environment
Zoom is a synchronous and asynchronous video, audio, and desktop collaboration software soon to be integrated into Blackboard by the University. You can utilize the tool for synchronous office hours, guest speakers, or asynchronous micro-lecture recordings direct from your laptop. You can hold individual/group meetings, asynchronous/synchronous presentations, or even create pre-recorded course content with quizzes.
Individual/group meetings– office hours, student group meetings, breakout meetings, etc…
Asynchronous/synchronous presentations– case study reviews, exam reviews, interactive class lectures, guest speakers, etc…
Pre-recorded course content– topical lectures, assignment feedback, student presentation assignments, etc…
Watch to the video below on the many uses and benefits of using Zoom in your Blackboard courses!
Enrich teaching & learning
Expand traditional classrooms with video-first unified communications to meet the growing needs of modern learners.

Maximize your resources
Utilize resources and hardware you
already have to expand your
capabilities and educational offerings.
Learning outcomes
Increase student participation and
learning retention with virtual and
hybrid classrooms and micro-learning.
Enhanced collaboration features
Collaborating on projects and ideas is easy with one click content sharing, real-time co-annotation, and digital whiteboarding.

New ways for students to engage
Video breakout rooms, multi-sharing, polling, and
group chats add a new level of engagement to
virtual and hybrid classes.

Microlearning opportunities
Easily create and repurpose video content into
easily-digested hosted videos that allow students
to learn at their own pace.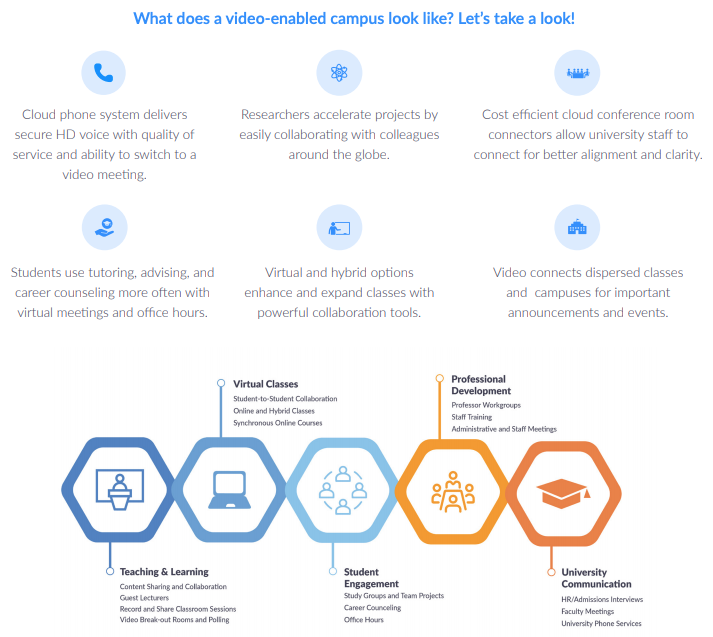 ---
A special note from the CIO about Zoom recording storage:
To: All USD students, faculty, and staff,

Due to the heavy usage of Zoom this semester, we will soon run out of the 11TB disk space allocated to USD for storing our recordings in the Zoom cloud. Before Zoom begins to automatically purge recordings, we would like to give you an opportunity to review your recordings – delete the ones you do not need any longer and download the ones you would like to keep. The deadline to clean-up your Zoom recordings for this semester is June 30, 2020. Guidelines for managing Zoom recordings:

Be mindful of what you store in the Zoom cloud. Record only what's needed and store it in the Zoom cloud only for the needed length of time. Note that Zoom recordings can be stored for a maximum of 120 days.
Zoom recordings that need to be saved for more than 120 days, should be downloaded to your Google Drive (which has unlimited storage) and shared with those who need to access them. We recommend downloading those recordings as soon as they are available. Otherwise, you may forget to do that before the time limit is reached. If needed, you can also download these recordings to your computer and/or flash drive.
Instructions on how to save your Zoom recordings to Google Drive are available here.
If you have any questions, please contact the ITS helpdesk at: help@sandiego.edu or 619-260-7900.
Thank you,
Elazar C. Harel, PhD
Chief Information Officer