Cadmium in batteries
Cadmium (Cd) is a metal used in almost every day of our lives. Cadmium joined with nickel creates a rechargeable battery called nicad. Nicad is used in rechargeable devices such as  calculators as well as aviation batteries. One of the first cordless cell phones were made with nicad batteries. The Cd metal is able to disintegrate when the battery is used and then reform into its solid state when the battery is charged. Because of its convenience to everyday consumers, it has been widely popular among the public.
Where cadmium gets dangerous starts here. Because the public has access to these nicad batteries, when the batteries are no longer usable, they are discarded to common trash centers. When nicad batteries are incinerated in the garbage, nicad becomes a fine gas. This fine gas is too small for the pollution control devices to collect. In result, the cadmium gets released into the atmosphere. Because of this, some states have banned the disposal of nicad batteries as well as the use of them. In the United States military, they still use nicad aviation batteries. Adequate training is given to those who use the batteries for helicopter safety as the batteries may catch on fire or explode. In efforts to protect the environment and common public, the European Union banned nicad batteries except for cordless power tools and systems for safety and medical purposes.
Cadmium entering the food chain
For years, farmers have used cadmium as a natural contaminant to bugs and organisms that cause harm to their crops. Eventually cadmium joins the water stream and contributes to contaminated sewage sludge. The cadmium builds up in the soil and consequently, vegetables and consumer goods grow in these contaminated soils. Tobacco leaves absorb cadmium from he soil and irrigation water and get released with the smoke when a cigarette is burned. Chain smokers therefore ingest cadmium on a daily basis which is double the cadmium intake of nonsmokers.
Even if you do not smoke, Cadmium is also present in vegetables, seafood, and animal meats. Cadmium travels up the food chain by a process of biomagnification. First, the cadmium becomes accumulated in potatoes, rice, wheat and other grains. Animals ingest these foods: chickens, pigs, and other farm animals. Over time these Cadmium levels build up with each level of the food chain. Humans therefore ingest the most Cadmium when they eat meat, while vegetables and grains contain the lowest concentration of Cd.
Cadmium and our bodies
The danger of cadmium is that your body thinks that it is calcium. Our bodies need calcium for our bones, kidneys and other organs to operate correctly. Although in history the most contaminated case of cadmium poisoning wasn't due to fertilizers or batteries, but actually mining and smelting. Cadmium is a byproduct of this act and threatens towns that have large mining businesses nearby. For example cadmium exposure can lead to osteoporosis. Calcium ions can be replaced with cadmium ions making the bones porous and eventually break.
Recent studies have suggested that drinking milk has caused Parkinson's disease. Perhaps, the cows have ingested cadmium through the foods they have ate and produce milk with cadmium ions in place of calcium ions?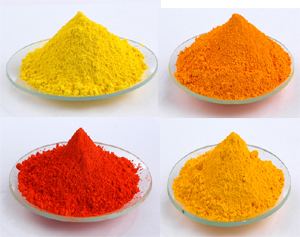 Cadmium actually used to be widely used as pigmentation. The different sizes of cadmium contribute to the various hues available. Cadmium when joined with sulfur or selenium are also used to color plastics. During the time of Van Gogh, he completed his famous Sunflowers canvas which used cadmium yellows. Van Gogh too seemed to have a mental condition.
Want to read more about calcium and its effect on your brain?