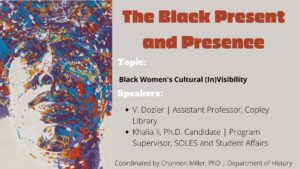 The Black Present and Presence program had Dr. Miller, Khalia Ii, and V. Dozier talk about the background of African American culture and how it has evolved within our society today. The book Freedom On My Mind by Deborah Gray and African American in Sports by David Wiggins both provide key understanding for Black culture. One of the main issues that was brought up was how African Americans are not credited for the accomplishments and impacts they have on society. Black culture is present all around us in our everyday lives, but we do not know this because they have been silenced. Dr. Miller helps us identify the aspects of Black culture in our everyday lives that we may not have known about and V. Dozer explains the overall presence of the Black community. This program helps us identify the aspects of Black culture that are hidden all around us and how the African American community, specifically women, have amplified their voices to combat this silence.
Dr. Miller introduced the program and brought up the continuation of marginalization for African Americans that exists in our society today. African Americans have popularized many things that exist today; however, they are not given the rightful credit they deserve. For example, Dr. Miller mentioned how black women have been criticized for designing and wearing unique styles of acrylics, but when a famous white person wears them then they are celebrated for it. In the book, African American in Sports, Wiggins explains how Florence Griffith Joyner was one of the fastest African American Olympian runners. Unfortunately, she was one person who was attacked for wearing acrylics during a race because it was not socially acceptable during the time. However, after retirement she "developed her own beauty and clothing lines" (Wiggins) and was not discouraged from her interests by the public. On the contrary, Kylie Jenner is appraised for wearing her own style of nails and now society is willing to accept different forms of nails. At first, I had no idea that African American women have played such an influential role in designing nails because the media never gave credit to them. However, after hearing Dr. Miller's presentation, I now understand how African American women have evolved their styles, specifically nails in this case, from factors such as slavery, religion, and family. More aspects that have stemmed from Black culture that are overlooked or not noticed are "dapping", wearing Nike air force one sneakers, nameplate necklaces, and much more. All of these are very popular in our everyday life, but are hardly connected to African Americans in the media. Something similar to this occurred in Freedom On My Mind when the English took advantage of the African technique of harvesting rice, which was a cash crop during this time. As a result, "enslaved Africans grew, harvested, and processed the crop using the equipment and technique first perfected in West Africa" (pg 164) and exported ten million pounds of rice per year. As a result, Carolina rice planters benefited from this tremendously and the enslaved workers got little to no profit from it. This exemplifies how the African American agricultural techniques were very crucial for farming rice in North and South Carolina in 1729. However, the English planters did not give them any credit and this technique was stripped from their culture. Now this is not exactly the same as Kylie Jenner stealing the concepts of nail designs, but it still carries the same weight and message of African Americans being unrecognized for their accomplishments. These examples make us wonder what other things they have been misrecognized for as we go through the history of African Americans.
Dozier explains the importance of communities and how it is present physically and digitally. First, she explains the concept of preferences and how we all have personal and academic preferences: "Twitter for academic preferences and Instagram for personal preferences" (Dozier). She connected this idea of preferences to communities. In her speech, she explains how black women found their niche community not only in person, but through Twitter too, "black Twitter" (Dozier). This online community is very influential for Black women and contributes to their growth. Specifically, they figured out how "environments can show forgiveness, reconciliation, and practice love in a way that makes us feel valued where we live, work, and play" (Dozier). This was found through the support and bond that the Black women community give to each other from the key use of digital spaces. For Twitter, they can send public messages and retweet those messages for more to see, which amplifies their voices so they can be heard. As a result, this creates close relationships with those in the community and offers protection for them as well. For example, V. Dozier mentioned a tweet regarding Tera Hunter being rightfully angry about Deborah McDowell's prize-winning article not citing from her own book and taking all the credit: "This piece is heavily dependent on my book with no citation to it. Unfortunately, this is not the first time this has happened" (Tera Hunter). This tweet voices her concern about her hard work being stripped away and how her work has been exploited before. However, the Black Twitter community protected her by amplifying her concern through retweets and likes. As a result of all the community engagement, her voice got heard and the book ended up being restricted from being sold. Tera Hunter called for action to be taken and she got responses from her digital space community. This call and response technique has been a part of African American culture for a while and is present within churches, jazz music, and much more. This is an example of the protection that is present within the Black Twitter community. Furthermore, it solves the problem of the Black community being silenced and not being recognized where credit is due. From the digital space, Black women can come together and demonstrate resilience and have a voice that can not be silenced. The Black Twitter community portrays how powerful it is to be unified as one community. The Black women community is not just secluded in Twitter, it is also present in Instagram and Facebook in the same type of way.
In chapter nine of Freedom On My Mind, Deborah Gray delves into the topic of church and community in the 1890's. Black churches were booming and brought African Americans together. Specifically, "the black church provided the most important institutional support in the transition from slavery to freedom. Joining a church was an act of physical and spiritual emancipation, and black churches united black communities" (Deborah Gray). This is very similar to the digital space that was discussed by V. Dozier because both of them revolve around coming together for a greater purpose. In this case, African Americans came together because "they rejected white Christianity and exited white churches" (Deborah Gray). From this, we can see how Black people had once come together in person to create a community and now they are able to connect with one another digitally.
The Black Present and Presence program discussed how Black culture is present in our everyday lives; however, some things are not fully credited for them. This program gave examples of African Americans being marginalized for things that are popularized today and the resilience that comes with being in a community. The community found in person and in the digital spaces helped Black culture be no longer silenced. Overall, this program informs us that Black culture is not only present physically, but it is also present in the digital space. More Black people will join the digital space to become even more connected with each other and to create positive environments to thrive in. 
Works Cited
Dozier, V. and Ii Khalia, "The Black Present and Presence" Saints and Serra Hall, University of San Diego, San Diego, California
White, Deborah G., et al. Freedom on My Mind: A History of African Americans, with Documents. Bedford/St. Martins, 2021. 
Wiggins, David Kenneth. African Americans in Sports. Sharpe Reference, 2004.