The Black Present & Presence event illustrated the deep-rooted but ever-present ways African Americans have assembled to resist their conditions of oppression and the resistance they meet from the dominant white society. The program at large brings together a variety of black voices to advance our understanding of black culture and the consumption of black culture in everyday life. The event I attended was led by V. Dozier and Khalia li. The speakers discussed the types of spaces black women have created to communicate with one another and amplify their voices in a society that often silences them. The speakers also highlighted an ongoing struggle of having their ideas co-opted by white society: from their literal knowledge and scholarship to their actual bodily practices and forms of cultural expression. With black women leading the conversation, the Black Present and Presence offered more context into a long history of the minimal visibility of black humanity: highlighting black resistance through the creation and exercising of culture that consistently meets erasure, silencing, and appropriation. 
The Black Present and Presence event featured dialogue on digital black feminism that illustrated the ways black people have reclaimed the power to control their narrative. Through an ongoing struggle to succeed in a society that attempts to sustain their subordination, honoring and constructing blackness in the public sphere has served black Americans with a tool for resistance, unity, and pride. Chapter 12 of Freedom On My Mind, "Catastrophe, Recovery, and Renewal," discusses a new consciousness developed within black America at the beginning of the twentieth century. "The New Negro" of the Harlem Renaissance movement emphasized racial pride, militancy, and the urgency to transform black American life. The text shares, "rejecting art that would 'pour racial individuality into the mold of American standardization' (White et al. 690)." At this time, black Americans were collectively moving under the controls of their objectives. As a result, black artists gained more control over representations of black history and culture that rejected and challenged the long-standing racial stereotypes of Jim Crow. 
Art is transformative; it shows people what they are and can be. The Harlem Renaissance pronounced black culture, heritage, and identity as art. The movement offered African Americans the opportunity for self-definition and self-realization. As the chapter highlights, "the empowering change in black identity that it fostered became permanent" (690). During the Renaissance, resisting antiblackness and celebrating black identity offered an opportunity to dismantle a distorted narrative and demand visibility. The institution of racism denies black presence, but black people find a way to collectively bring their presence back in through a culture of resistance and racial uplift.
The event also offered insight into black hair culture as a symbol of resistance, racial pride, and the interconnectedness of black people. In Océane Nyela's Braided Archives: Black Hair as a Site of Diasporic Transindividuation, she explains that women of African descent "experience belonging in the Diaspora through their hair" (Nyela 2). The styles black women wear on their heads surpass just hair and aesthetics. They play a huge role in fostering and reasserting identity. Nyala writes, "hair has and continues to be used to communicate between members of the African diaspora and sustain the cultural knowledge and practices" (10). In pre-colonial Africa, hair was associated with identity and spirituality, believed to be "a gateway to the divine" (11). In addition, it served as a social, cultural, and ethnic marker, relaying information on one's geographical origin, societal status, marital status, and more. Although these markers varied from one ethnic group to another, the social and cultural significance held in the hair was one shared convention across West African ethnic groups. 
During the transatlantic slave trade, millions of Africans were kidnapped, taken without any sense of control of their own destiny, a process that required their dehumanization. An early practice to erase the identity of the newly enslaved was shaving their heads. This custom ensured enslaved peoples could not recognize themselves, each other, and their origins. By the 18th century, black features, specifically hair, began to be categorized as inherently inferior. This degradation of African hair was a tool used by white slaveholders to justify the enslavement of African peoples. 
In the aftermath of slavery, the Harlem Renaissance emphasized the reclamation of African-based aesthetics, namely hair, to repair lost cultural identity and reclaim bodily autonomy. Nyala shares that cultural expression through hair "allows us to think of ourselves as 'humans' through cultural practices that reinforce/foster a cognitive process of group belonging. This cognitive process allows us to 'remember' who we are" (102). As I believe Nyela describes, embracing Afrocentric hairstyles allows African Americans to demonstrate a visible connection between them and their lineage. It reclaims the power once carried by the hair of their ancestors and represents their identity as black people. Nyala also notes, "hair braiding creates the possibility for blackness to redefine itself outside the claws of whiteness and stand on its own. Here, hair braiding becomes an exercise in making and (un)making historical legacies" (109). White supremacist culture invented negative stereotypes to create a false narrative about black women. The reconsideration of Afrocentric perceptions of black hair and a refusal to abide by presiding anti-black ones was an act of resistance throughout black history. Through this form of cultural expression, black women demanded visibility and outwardly celebrated their identity as black people. They reclaimed stolen power and threatened the status quo when they resisted these stereotypes by using their culture to self-define. 
At the Black Present and Presence event, Khalia li spoke about her own hair journey, offering more insight into the invisibility or even hypervisibility that is still bound to black hair. She spoke about her lack of courage to wear hairstyles that did not conform to eurocentric beauty standards out of fear of how it would impact her lived experience. Hair weaponized against black women is a legacy that remains in the present. According to Global Citizen, "In 42 states across the US, the law does not protect citizens from discrimination for how they choose to wear their hair or represent their heritage." The denial of employment and education because of hair remains an ongoing issue across black America. This reality is increasingly problematic when non-black people culturally appropriate black hairstyles. When white women copy hairstyles that black women were and are unable or unwilling to wear due to negative perceptions of black hair, it ignores the historical weight of these practices. Furthermore, it delegitimizes the negative experiences black women face when expressing themself in this particular way. 
When white celebrities receive praise for wearing black hairstyles, it separates black women from something they created and burrows in deeper the racial stereotypes of antiblackness. In The Oppression in Appropriation, Danielle Vaughan-Bonas describes, "what often follows is the cultural appropriator neglecting to credit the source for the culture, and through this, black women become invisible" (Vaughan-Bonas 3). Ignoring the origins of black hairstyles and not giving compensation to its inventors illustrates the minimal visibility of black people. Furthermore, it demonstrates the dominant majority's lack of awareness of how black people navigate a racist society. One specific example was Kim Kardashian taking to social media to credit her Fulani braids, worn by the Fulani people of West Africa, to Bo Derek, a white actress who culturally appropriated the hairstyle in the 1979 movie '10.' By calling them "Bo Derek braids," the hairstyle's black roots and cultural significance become muted. Additionally, when white women name a black hairstyle they didn't create, it alienates black people from something they invented. It erases identity and the possibility for resistance. 
When white people benefit and profit from appropriating black hair culture without fear of negative consequences, while black women endure race-based discrimination, it perpetuates unequal power dynamics and reinforces black inferiority. Vaughan-Bonas adds, "Fulani braids, among other African hairstyles are consistently rejected by society when worn by black women, until a member of the dominant class wears them and validates them for white consumption" (4). Black women have long worn their hair in braids, but once placed on white bodies, the appropriator suddenly becomes a "trendsetter." When black hairstyles are only accepted when elevated by white people, it communicates that they are not seen as valuable on black bodies. 
Culture is a shared locus of meaning-making and identity-making. Throughout their lives in bondage and beyond, African Americans have formed a unified identity through a culture of resistance. The foundations upon which African Americans thrive today began with their ancestors piecing together a new life. Before black bodies were stolen from the shores of Africa, there was no notion of black identity. African peoples came from different kingdoms, nations, and governments, spoke different languages, and practiced different forms of faith. Not until black people reached the Americas did they become enslaved, distinct, and tasked to form a collective identity. With a new shared positionality, they had to develop their own methods to procure their freedom and grapple with their distinct conditions. For the entirety of the black experience, resistance has been constant but also challenging. In this way, there is an intricate relationship between the black people of the present and those who were enslaved. Throughout history, black Americans have created and embraced culture to survive their conditions of oppression. When white people steal black culture and claim it as their own, it is another form of colonization, conquering and erasing black identity. To understand why issues of the past persist as issues in the present, we have to ask ourselves how we got to this moment.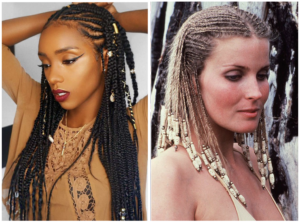 Works Cited
Nyela, Océane Ingrid. "Braided Archives: Black Hair as a Site of Diasporic Transindividuation." YorkSpace Home, 3 Mar. 2022, yorkspace.library.yorku.ca/xmlui/handle/10315/39078. 
Vaughan-Bonas, D. "The Oppression in Appropriation". Footnotes, vol. 12, Apr. 2019, https://journal.lib.uoguelph.ca/index.php/footnotes/article/view/5314.
"8 States across the US That Have Banned Black Hair Discrimination." Global Citizen, www.globalcitizen.org/en/content/hair-discrimination-crown-act-states/. 
White, Deborah G., et al. Freedom on My Mind: A History of African Americans, with Documents. Bedford/St. Martins, 2021.