Through various energy efficiency projects and updated installations, the university saw energy savings of six million kWh, which equates to 20% energy savings over the 2010-2011 fiscal year. USD is also home to the third largest rooftop solar installation on a college campus in the nation with a 1.23 megawatt system atop 11 buildings across campus. Click here to see a complete flyover of the solar panels. If you would like to view the solar panels, contact the Office of Sustainability to set up a tour today!
Click here to view a summary of USD's partnership with San Diego Gas and Electric.
Lighting
During Intersession 2013, the Office of Sustainability worked with Planning Design and Construction to implement a complete lighting retrofit across campus and replaced more than 4,000 light fixtures. All outdoor lighting was upgraded to energy efficient standards. These measures are part of USD's larger sustainability plan to reduce overall energy production and usage. In the past two years USD has saved over 6 million kilowatts annually which translates to about 20% of our total energy usage and can power over 600,000 homes. With retrofit projects such as this, USD will continue to save electricity and reduce the university's carbon footprint.
The TATI Audit in progress will identify both additional energy efficiency measures and demand response measures on the entire USD campus. Installation of these controls will not only enable us to do demand response but also enable us to tailor lighting and HVAC energy consumption as the needs of the occupants change throughout the day. USD will also receive electronic building models of our high consumption buildings that will help to determine feasibility and prioritize other energy efficiency measures.
Running on Sunshine: USD and AM Solar Press Conference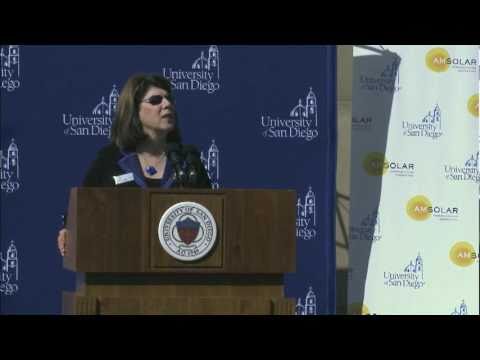 Don't wait for cooler weather to find out if your heating and A/C system is running efficiently!
You may be eligible to receive a no cost System Assessment & Improvement ($300 value) through SDG&E's AC Quality Care program. A qualified technician will perform a comprehensive check of your system components – including the furnace – and may make several energy efficient improvements to the system.
Visit acqualitycare.com (select the Quality Maintenance option) to sign up for this service online or call (800) 289-2440 to speak with a representative. SDG&E® also offers ways to get ready for the winter heating season.