for 1st-8th grade students
University of San Diego, summer 2017
Description: Choose from several camps for students entering grades 1st through 8th that focus on having fun while learning mathematics or programming. Through fun, hands-on activities, students will engage their creativity, enhance their problem solving skills, and develop their mathematical or programming skills and communication and critical thinking skills. Students will learn from University of San Diego faculty, students and alumni from the Department of Mathematics.
Fun with Mathematics Camps:
Artistic Explorations with Mathematics: Mathematics and art are related in many ways. In this camp you will explore mathematical patterns to create art and will get inspiration from art to explore mathematical ideas.
Games & Mathematics: Many of your favorite games use mathematical concepts. In this camp you will learn the mathematics that makes these games interesting, and will use your mathematics skills to develop winning strategies. By the end of the week, you will invent your own game and discuss the mathematics involved.
Mathemagic: Mathematics is magical, but also a lot of magic tricks are based on basic mathematics. In this camp you will explore the mathematics behind some magic tricks, and learn tricks to impress your family and friends. You will also learn about basic properties of numbers that will allow you to create new magic tricks. By the end of the week you will be able to impress your friends with card tricks, convince them you can read their mind, and much more.
Students in these mathematics camps will:
Apply critical mathematics skills and develop increased mathematics confidence, interest and knowledge;
Recognize the creative, beautiful nature of mathematics;
Identify applications of mathematics to everyday activities;
Improve problem solving, communications and critical thinking skills;
Recognize that failure is a natural, worthwhile part of the learning process and develop perseverance;
Increase exposure to the university/college campus and faculty and students.
Fun with Programming Camps:
Creative Computing from Scratch: Learn the basics of computer animation and programming using a fun language called Scratch! You'll create your own one-of-a-kind projects which tell a story or make a game that you'll be proud to show your parents and friends.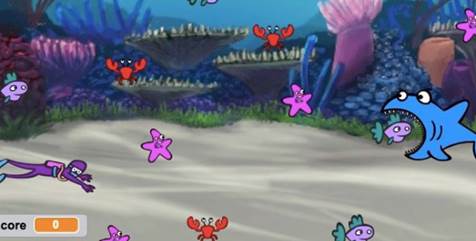 2-D Video Game Creation from Scratch: Introduce yourself to the art of solving problems logically, creatively, and algorithmically by learning the basics 2D video game creation. You'll even be able to create you own phone app!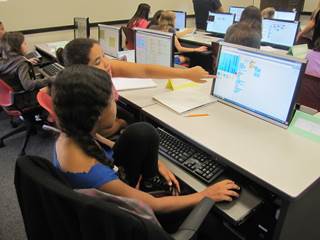 While learning to program using Scratch and Alice, students will develop an understanding of many of the essential principles of computer programing including how to:
Solve complex problems by breaking them into smaller problems;
Create and apply a clearly defined sequence of steps called algorithms to solve problems;
Recognize that computer programs are often created by revising and combining other programs in new ways;
Improve the ability to think logically and express ideas precisely;
Recognize what it takes to become a computer scientist or software engineer.
Increase exposure to the university/college campus and faculty and students;
Schedule of camps
| | | | |
| --- | --- | --- | --- |
| Camp Name | Week | Times | Grades |
| Artistic Explorations with Mathematics | June 19-23 | 9am to 11:30am | 1st, 2nd, 3rd, 4th, 5th, 6th, 7th |
| Games and Mathematics | June 19-23 | 1pm to 3:30pm | 1st, 2nd, 3rd, 4th, 5th, 6th, 7th |
| | | | |
| | | | |
| 2-D Video Game Creation from Scratch | June 26-30 | 9am to 11:30am | 5th, 6th, 7th, 8th |
| | | | |
| | | | |
|  Mathemagic | July 10-14 |  9am to 11:30am |  1st, 2nd, 3rd, 4th, 5th, 6th, 7th |
| Artistic Explorations with Mathematics | July 10-14 | 1pm to 3:30pm | 1st, 2nd, 3rd, 4th, 5th, 6th, 7th |
| Team-building games and lunch-time | Every week | 11:30am to 1pm | Free with all camps |
Pre-camp (7:30am to 9am) and post-camp (3:30pm-6pm) are available for an additional, small fee.
Join us for a morning session (9am-11:30am), an afternoon session (1pm-3:30pm) or for both (9am-3:30pm). All participants may join team-building games and lunch time (11:30am-1pm) free.
Location:
University of San Diego Campus
5998 Alcalá Park
San Diego, CA 92110
Who Should Attend: There are camps available for students entering first grade through 8thgrade. Students will be grouped in like-aged-teams.
Camps Manager:

Celina Gonzalez is a fourth grade teacher at High Tech Elementary North County (HTeNC) and an alumna of University of San Diego. She believes in the importance of education as both social-emotional and academic. She is passionate about helping students realize they can be change agents and loves to challenge and be challenged by students' thinking and questioning.
Celina was raised in Mira Loma, CA with three older sisters and loving parents. She earned her B.A. in Liberal Studies at USD, where her love for teaching and learning deepened thanks to the passion of her mentors. Her curiosity and joy in mathematics was reignited at USD, so she completed a concentration in Mathematics. She continues to develop a love for working with families and building capacity in communities. She studied at High Tech High Graduate School of Education, where she earned her Master's Degree in School Leadership. During her free time, she loves to be outdoors on hikes or watching sunsets. She enjoys spending time with her family, especially her young niece and nephew. She spends her free time trying new recipes, visiting book stores, playing volleyball, painting, and spending time with loved ones especially her silly dog, Chops.
Program Faculty:
The Summer Mathematics and Programming Camps are taught by a team of faculty from the Mathematics Department at University of San Diego.
Dr. Diane Hoffoss has been teaching both mathematics and computer science courses to eager students from middle school through university since 1993, when she was a graduate student at UCSB. Since getting her PhD in 1997, she has taught at Colorado College, Rice University, and teaches now as a tenured professor at University of San Diego. USD is a great fit for her interests and talents because of its strong commitment to high quality teaching, and she has received many teaching awards from both faculty and students.
Hoffoss was a Summer Faculty Fellow at NASA JPL, where she worked on computing problems involving optimizing the scheduling of communication between the Mars rovers, Mars orbiters, and the 3 Deep Space Network communication stations on Earth, and also at Bell Communications Research, where she helped develop a new object oriented, deductive database computer language called LAURE. She has taught several summer computing camps for elementary and middle school kids, and enjoys introducing young minds to the excitement of creative problem solving, logical thinking and computer programming using the instant feedback of computer animation and LEGO robot control.
Dr. Candice Price grew up in Sacramento California. She received a Bachelor of Science in mathematics from California State University, Chico, a Master of Arts from San Francisco State University, and her Ph.D. from the University of Iowa. She is currently a Professor of Mathematics at the University of San Diego and was a Professor and National Research Council Davies Fellow in the Mathematical Sciences Department at the United States Military Academy, West Point. Her service mission statement is to create and contribute to programs that broaden the participation of underrepresented groups in the mathematical sciences by focusing on strong mentoring and research networks.  Professor Price played rugby at CSU Chico and volunteered with the USMA Women's Army Rugby team. Her research area is primarily in DNA Topology but she is currently working in various areas of mathematical modeling. She enjoys playing and watching rugby, viewing documentaries and watching her 2-year old niece grow up.
Dr. Amanda Ruiz grew up in Huntington Beach, CA. She earned a Bachelor of Arts from U.C. Berkeley, a Masters and teaching credential from San Francisco State University, and a Ph.D. from Binghamton University. She is currently a Professor of mathematics at University of San Diego and was a teaching and research postdoctoral fellow in the Mathematics Department of Harvey Mudd College. She has also taught at Woodside High School in San Francisco, at the Mathematical Sciences Research Institute Math Circles, at San Francisco State University, and at San Francisco University High School; worked as counselor, teacher and mentor at Oakland Emiliano Zapata Street Academy; and was program coordinator, tutor and mentor at East Bay Consortium of Educational Institutions / Cal-SOAP, Oakland, CA. Dr. Ruiz is committed to making mathematics more accessible for women and students of color and considers service in this area an integral part of her job as an educator and academic. When she is not doing mathematics or teaching, Ruiz enjoys playing soccer and spending time with her daughter and husband. Professor Ruiz's Erdös-Bacon number is 6 (=3+3).
Course Fee: $220 for a one-week morning (9am-1pm) or afternoon (11:30am-3:30pm) camp. $400 for both morning and afternoon (9am-3:30pm) or if you sign up for more than one session. A 10% discount is available for University of San Diego Employees. Space is limited.
To register for this camp, please fill out the two forms (form1 and form2), sign them, and mail them with your check (made out to USD) to:
Mathematics and Programming Camps
Mathematics Department
University of San Diego
5998 Alcalá Park
San Diego, CA 92110
Learn More: If you have questions regarding this summer program, please contact Celina Gonzalez at (909) 268 7300 or Perla Myers pmyers@sandiego.edu.